It began with wanting to see the fires from hell. It ended with God. It began Oct 14, 2017. It ended May 19, 2018. It began with feeling like a fat loser at age 50. It ended with swearing while visiting St. Peter's Basilica, and feeling like, well, I swore while visiting the Vatican.
Italy or Hawaii? First up, Hawaii.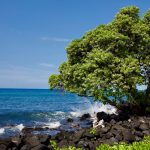 Back in mid 2017 my wife and I wanted to take a vacation, and October seemed like a good time to work it into our schedule. Since we met there were two destinations on our immediate vacation list, Italy and Hawaii. She had been to Italy previously and knew October might not be the best of times to go, but it seemed like a great time for Hawaii. The flights were booked, Airbnbs were secured, and there were four months to get in better shape, especially for a vacation destination that exudes "cool things await those who hike, or at least walk a lot."
Me, I had one goal, to see the lava flows of Kilauea Volcano on the Big Island.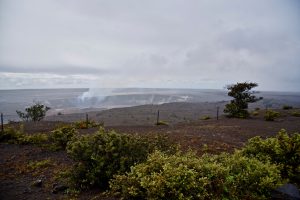 Back then Kilauea Volcano was fairly quiet and lava flows were hit or miss. This is in contrast to the explosiveness of today, with the lava fissures in Leilani Estates and the action at Overlook crater at the Kīlauea summit. Thinking back, maybe things were too quiet at the volcano when we visited. In any case, as we arrived one thing was certain, I didn't get in good enough shape to have any chance to make it to where lava might be flowing.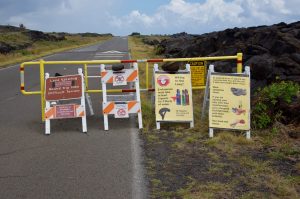 The signs that were posted, I joked, all read, "Andy, you will die if you pass." It was about a 10 mile hike, you should take at least 3 quarts of water, and you should have food and even flashlights. It was also hot on the day we visited, about 85 degrees. As much as I wanted to get pictures of lava flowing I knew I wasn't in shape to do it. I tried to make myself feel better as a ranger mentioned there didn't appear to be any visible lava flow that day, but in my heart I knew I really couldn't make that hike because, well, I was still a fat loser.
Hawaii was over, but the thought of that failure lived on in my head.
Then came Italy.
With Hawaii behind us, my wife was immediately in "Let's go to Italy next year!" mode. I was in. I mean, Italian food and gelato everywhere. Sure, I'm Polish, but I love me some good pasta!
In the back of my head, though, was the Hawaii failure.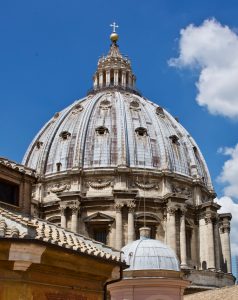 Initially it wasn't that big a deal. I knew there would be a lot of walking in Italy, but nothing seemed completely out of reach for my fat self, that was until I learned of the cupola at St. Peter's Basilica.
The cupola at St. Peter's Basilica is, simply put, the outside of the top of the big dome. From the cupola you can get the greatest views of Rome, but to get to the cupola you have to climb stairs, a lot of stairs, 551 stairs from the bottom to the top. As taking pictures is one of the things I do, I wanted the best pictures, and to possibly get them I knew where I had to be, I needed to be at the cupo, St. Peter's cupola, the hottest spot west of the Piazza.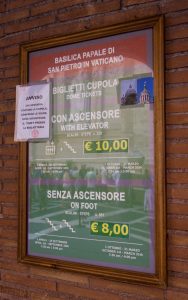 My wife is the one who mentioned the cupola to me, and the stairs. She also mentioned that there is an elevator to get to a terrace level that can give you a nice view, and a wonderful view inside the dome, but that elevator didn't go all the way to the top. Sure, you can cut the stairs down to 320 by taking the elevator, but, if I was going to do this, I wanted the complete experience.
I now had a goal.
How, though, was I going to get this fat loser into any kind of shape to climb 551 stairs?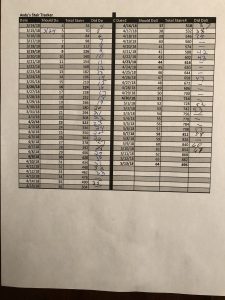 There was some preliminary weight loss as the year began, some extra time on a treadmill, but walking flat on a treadmill wouldn't really be any preparation. Also, where was I going to find stairs to train on? Sure, I could join a gym with a stair-master, but I really don't like going to the gym. It occurred to me, "We have stairs! Why don't I train at home?"
At home we have two little flights of stairs, a total of 14 stairs. For shits and giggles I decided to see how many flights I could easily do, and there it was, four flights of stairs. "Crap, that's only like 56 stairs." I was curious, however, if it were possible to add one additional flight of stairs every day.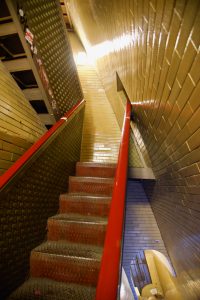 The plan was hatched. I even made a chart. I was going to use our stairs to train for the big day. I would start with four flights of stairs, and every day I would add one flight. By starting on March 14th, if I stuck with this plan of adding one flight of stairs a day, by the time we would leave for our trip I would be able to climb upwards of 896 stairs. I wanted to be over-trained, and I also didn't know what the effect of walking up and down stairs did (I only counted the stairs going up), versus climbing stairs continually up as I would have to do at the cupola.
Every day I did my flights of stairs, at least for most of the days. I even decided, as my legs became stronger, to actually add two flights to the daily total, giving some extra training every day just in case there was a chance I couldn't do the stairs for a day or two.
A clogged bathtub drain.
My training was going great, I was up to 602 stairs, and some bathroom cleaning was going on about 3 1/2 weeks before our trip. Our bathtub drain was getting a little slow, so hey, why not use one of those yellow "get the hair out" thingies. I'm leaning over the edge of the tub, pushing and pulling this "unclog your drain" gadget, when suddenly a sharp pain hit my right ribcage. The good news is I cleared the drain, but the bad news was that I was fairly certain I just gave myself a rib injury.
I didn't think anything was broken, but my ribs were sore, sore enough to effect my ability to take full breaths, which in turn, I was certain, was going to effect my stamina to climb 551 stairs. I was not happy. Worse yet, I was worried that although I wouldn't be as fat, I would be a loser again at another goal.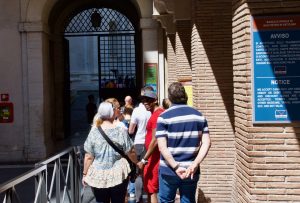 This was not good because I did not want to be a loser.
I took a few days off of my training, resting my ribs, but worried my legs would quickly lose their stamina. A training set was done a few days later, I made 47 flights at 658 stairs, but it was hard. There were a few more days off of training but, come the beginning of May, decided I needed to figure out a way to kick the training back in gear. I made it a couple of days, but my ribs were still sore. How the heck was I going to pull this off?
I tried a few days rest, a few days training, and yet my ribs still hurt, especially towards the end of my set when I was having to take larger breaths to supply my body with the oxygen it needed. This "adding one flight of stairs a day" seemed like a good idea early on, but with sore ribs it proved to be a chore.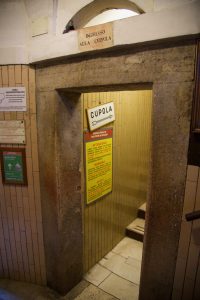 Then came a true test. It was one week before our visit to The Vatican, I was up to 854 stairs in my training at home, the up and down of the flights of stairs, and my ribs were still sore. Suddenly an opportunity came to climb to the eighth floor of a building, a total of about 300 stairs. Should be a piece of cake, right? Well, I made it, my ribs were killing me, I was totally out of breath because I couldn't really breathe, and now I was simply thinking, "I can barely do 300 stairs with these ribs. How in the hell am I going to do 551?" I almost wanted to cry.
I decided my last course of training had to be lack of training. If I wanted to climb these stairs to the cupola I needed to be able to breathe, and even though my stair tracker had a few days left of training to go, I needed to rest my ribs. No more stairs, no more exertion, I decided I would try to limit things, get to Italy, and see what would happen.
Buongiorno!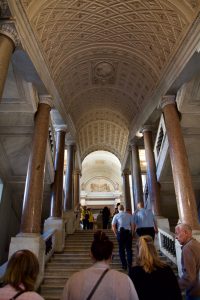 The day arrived. It was a beautiful Saturday in Rome, and we made our way to The Vatican. I hadn't really done any exercise for a week, my ribs were feeling pretty good, or at least not sore, but another test was first, our tour. Yes, before even attempting the stairs we booked a tour of The Vatican so we could beat the crowds. What was I thinking? I had 551 stairs to try to climb, and here I am on a three hour tour, walking around The Vatican Museum, standing in the Sistine Chapel, and walking, low and behold, up and down stairs.
I will say the tour was great, interesting, and informative, but with every step and every stair all I could think was how I was using up the energy I was going to need to climb to the cupola. Did I overtrain enough? Isn't this tour over yet? Not another flight of stairs that aren't part of my cupola stairs! Ugh!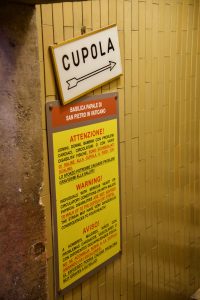 Finally the tour was over. Holy crap, I had already walked about three miles according to my Apple Watch, but the time had come. My ribs felt fine, I made my way to the line to the cupola, and there was the sign, "Andy, you will die if you pass." Okay, it was a warning that there were two ways up, all stairs or you can cheat with the elevator for part of the way. If you intended to try to get to the cupola there were still a lot of stairs, but another sign was a little more direct, "Warning! Individuals with serious heart or circulatory conditions or with major physical disabilities are not advised to walk up to the cupola (551 steps). The strain may have very dangerous consequences to your health."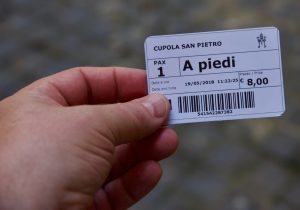 I have to admit there was part of me, with the decision between elevator or all stairs in front of me, to chicken out and take the elevator, but I said, "You can do this. This is what you trained for. Suck it up, save the two euros, and get walking!"
So I did. I paid my eight euros, got my ticket, and proceeded to begin the climb.
That's Not So Bad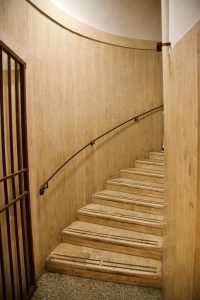 The first batch of 231 stairs wasn't that bad. While circular, they tended to be larger stairs, decent in width, with some ledge style stairs where you actually take a few steps between stairs at times. In fact this batch is kind of a tease. I'm all like, "La de da! This is a piece of cake!"
I emerge from the first batch at the terrace, some construction is going on, but there it is, the real entrance to the journey to the top of the dome. As you enter you are first treated to a view most never see because they either don't want to pay for that first batch of stairs, or the elevator for that matter.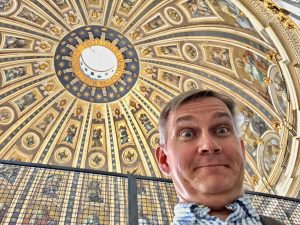 You get a view of the inside of the dome of St. Peter's Basilica, from up high. It is a stunning perspective of the basilica, looking down on the vastness of the church, and looking around at the grandioseness of the dome itself. Beautiful mosaics adorn the walls, and for this the few euros is just about worth the expense, even if you don't want the outside view that awaits up the rest of the stairs.
Welcome to the Funhouse
Me, though, I wanted that outside view, but you don't get that view without what can almost be described as a funhouse of a climb to get you to the top.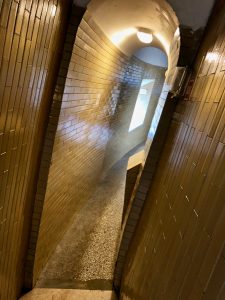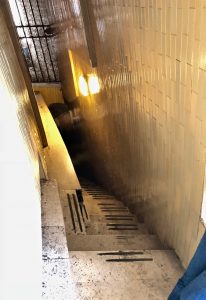 First off the stairs have now become narrow as you are essentially climbing in an area between the walls of the inside of the dome and the walls of the exterior of the dome. It's also fun because the stairs will slope one direction while the walls are sloping in the opposite direction, giving you a walk that has you tilted in various angles.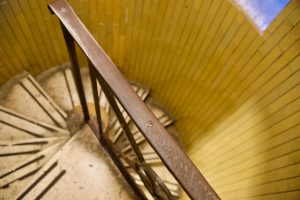 Then there are the spiral staircases. Spiral staircases seem to be here, there, and just when you think there aren't any more, bam, more spiral staircases. I'm climbing, some young, punk kids, and I only call them "punk" because they are in shape and running up the stairs like it's a jog in the park, catch up to me so I let them pass, I catch up to someone who looks in decent shape but is fairly winded, and we both stop for about 20-30 seconds in a little alcove out of the way of others who want to pass.
I have no concept of how many stairs are left because, well, I didn't count them as I was climbing, but I hoped I was fairly close. You see, during my training, as I was getting to the end, whenever I had four flights of stairs left I said a mental "You were able to do four flights of stairs when you started this training. Finish this!", and for most of the balance of the upper portion I kept telling myself, "There can't be more than four flights left!"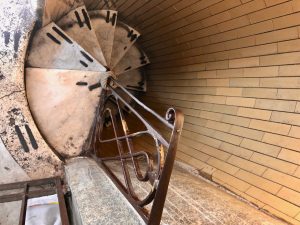 Here's the thing, as you are climbing the funhouse stairs in the actual dome, there is a spot towards the end where you suddenly get to some metal staircases. They are normal, you are happy, but ahead marks what you will think is the worst spiral staircase of them all. Climb, hold on to the rope, because there is one, and like me, you will emerge, and maybe you might say…
"Holy shit, I made it!"
Yes, I dropped the s-bomb at the top of St. Peter's Basilica.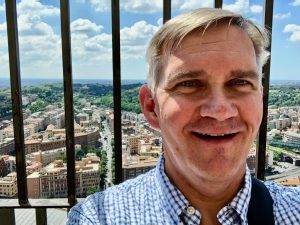 It was a feeling of complete elation! I did it! Should I see if Pope Francis would hear my confession? At least it wasn't an f-bomb!
I was also overwhelmed, and I really wasn't sure what to do next. Do I Snapchat my view, text my wife, take pictures, shoot video? So, at first, I just tried to soak it in, which was kind of tough because the cupola was packed. Sure, this 51 year old schlub made it, was ecstatic that he made it, but there were plenty of folks up at the top like,"What, that wasn't so bad?" I didn't care, though, because for me it was it was a little bit of redemption for not making it to the lava, or even trying, that day in Hawaii.
Here's the thing, though, I enjoyed the view, took a selfie, took the proverbial pictures, I didn't text my wife because I was saving money on our phone plan, but then it was time to go.
What Goes Up Must Come Down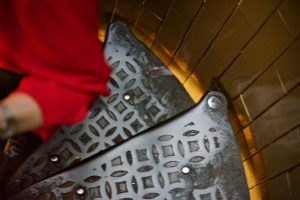 All of the stories I read, and videos I saw of climbing to the cupola mentioned the challenge of going up, but none of them talked about going down. I will say that as kind of freaky it was going up all of the spiral staircases, going down actually was worse. Why? Going up you can kind of see where you are placing your feet, but going down was more like lower foot, feel for the step, hope you are on enough of the step to hold you until the next step, and continue. Oh, and there are no handrails to hold, just a wall and the center post, both of which are there mostly to maintain your balance and lean against as opposed to grab.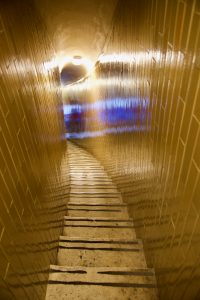 After navigating the super-tight, spiral staircases, things get more weird as the trip down is also one of the best thigh workouts, or will put the most stress you have ever felt on your quads and knees ever, as most of the steps are pitched down. Picture walking down a giant hill, one step at a time if the hill were steps.
On the way down the stop on the terrace level is nice, and you can get a nice view of where you were at the top of the cupola. There is a gift shop, which sadly doesn't have any t-shirts "I walked to the top of St. Peter's Basilica!" There's a little cafe and views of the backside of statues where, if you look closely enough, you will see how they keep the birds from landing on the statues.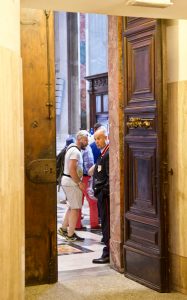 Finally, you are heading down the last batch of stairs, and there it is, the exit, depositing you into the basilica where you can head back to the altar, look up, and point, "I was way up there!"
I found my wife where she said she would meet me. I hugged her, and my eyes welled up with tears. I could tell she was proud of me because she hugged me back, even though I was a sweaty, stair climber.
I had done it. After tormenting myself since our vacation to Hawaii and feeling like a fat loser, there I was, a chubby winner at age 51. Now I just needed to find the Pope and confess my swearing, and plan a future trip for a new goal. I hear Australia has a big bridge you can climb!