It started with an email to business dude and podcaster, Noah Kagan, "I like a great donut, and wondered if you know any awesome bakery or breakfast spots where we can start our tours of the Austin area?"
He nicely replied how he wasn't a donut guy, but Voodoo Donuts was "famous on 6th Street". I thought, "Who doesn't like a good donut?", but to each their own I suppose. I kept reading, "… for diners hit up a greasy mexican one like ciscos or joe's bakery. either will serve ya dirty."
The quest was on!
Austin in February?
Who goes to Austin in February, anyway? It wasn't supposed to be that way. My wife and I had planned to visit about six months earlier, but a bum knee caused a cancellation of plans. A knee was bummed, and we were bummed as Austin was one of those places we just wanted to visit. You know, you hear good things and want to experience good things, so we wanted good things in Austin.
As the season of fall came to Chicago, and the dreadful thoughts of winter began, discussions turned to a long weekend getaway that would be needed for some rejuvenation from the seasonal affective disorder that was sure to arrive. Maybe the Caribbean? How about the Florida Keys?
What about Austin?
The weather might not be perfect, but it sure will be better than the cold depths of hell Chicago will probably be experiencing in the middle of winter.
Austin it was!
Turns out it was the perfect weekend to be in Austin. Austin would have a record high temperature 91 degrees, and Chicago would just be escaping from a polar vortex with -22 degree temperatures and wind chills of -50. Sweet!
A Quick Note
This story is mostly about food. Austin has a boatload of other stuff to do, and while we did eat a lot over the course of our visit, we did enjoy other aspects of Austin, eventually got the courage to ride one of those scooter things, and relaxed. Those things are stories for another time, let's get to the food!
Lunch, and It Turns Out, Dinner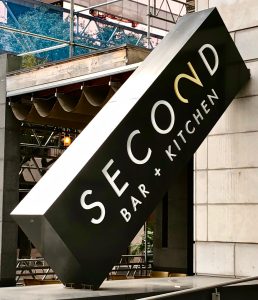 Arriving on a Wednesday, by the time we checked into the hotel we were hungry and tired. The tricky part was that it was already past lunch and on the way to dinner time. Not wanting to drive anywhere, my wife and I ventured across Lady Bird Lake to the downtown area, settling on the first place we could find, 2nd Bar and Kitchen.
It wasn't the fanciest of meals as we shared the black truffle pommes frites, Avocado Fundido, and Short Rib & Mushroom Cheesesteak. The truffle fries were not too greasy, which is nice, watch out for the jalapeño peppers on the cheesesteak, they'll sneak up on you, but the star of this show was the Avocado Fundido, a tasty queso you won't want to pass on.
2nd Bar and Kitchen was a nice, first step on a culinary journey for the next five days!
Long Walk. Wrong Shoes.
Who decides they should walk 3/4 of a mile following a good meal to visit The Texas Capitol in shoes that aren't really made for 3/4 of a mile of walking? My wife and I. Yup, the capitol building beckoned us, seductively sitting there at the end of Congress Street, and at the time it didn't seem that far away. The weather was nice, what the heck, let's walk!
God bless my wife, and I suppose I've subtly noticed this before, but her concern for cleanliness truly came through as, while we were coming upon the capitol, she noticed the wooden shutters on all of the windows. She smartly commented wondering who cleans them, and what thickness of dust must be on said shutters.
I am happy to report that as we did our own tour of the building, the senate chambers had the cleaner of the shutters when compared to the representatives side, however, my wife was impressed that they were both much cleaner than she expected. Congratulations Texas, your tax dollars are being put to good use, at least in terms of clean shutters.
It was a neat visit, complete with a fountain that looked like a little boy playing with, well, what little boys might play with, but suddenly the realization we had to walk another 3/4 plus mile back to the hotel came upon us.
Being older folks, the thought of using the scooters frightened us, so we hoofed it back to 6th street, walked the wrong direction on 6th to the normal looking bar life instead of the more fun looking bar life (Head east young man!), and we both gave up. It was time for an Uber.
An Uber driver with a Dodge Charger arrived, and he was nice enough but failed to realize that the Charger back seat is nearly unlivable if you have giant bags of snacks hanging on the rear of the front seats. With our knees pressed into our chests as to try not to crush his offering of snacks, he got us back to our hotel where I proceeded to somehow fall asleep from exhaustion. My day was done, much to the surprise of my wife.
The Best Breakfast of the Trip
With a busy day ahead of us I convinced my wife that my guy Noah wouldn't steer us wrong on food, so we drove to Cisco's.
Holy crap was this a great idea!
Rolling up on the corner of East 6th and Comal, a blue building with a mural of cowgirls with plant life covering their private parts greeted us on one side of the building while flying pigs and a mariachi band greeted us on the other.
Inside was the kind of place I had hoped for, and exactly what Noah described, a classic diner that will "serve ya dirty." In my world that really means "is no frills and has some awesome food."
Sitting at the counter where we could watch the cooking magic happen, I opted for the Huevos Rancheros because, well, the menu mentioned "The man who made Huevos Rancheros famous." My wife chose the Potato / Egg Taco and the Migas Taco. My Huevos Rancheros were yummy, but after trying my wife's choices, I now understood the joy of a breakfast taco.
Let me simply say that breakfast at Cisco's was a treat. From the food to the atmosphere, both of us, upon reflection of our trip, wished we had revisited Cisco's for another breakfast.
Moon. Hills. Dam. Beer.
An upcoming afternoon of travel required some caffeine, so why not try something different, something Austin, and something recommended by my sister-in-law. That something ended up being Summer Moon Wood-Fired Coffee, made with this other something called Moon Milk. I ended up with a Wintermoon, described as, "Our signature iced latte blended with Moon Milk: seven secret ingredients to bring you sweet, creamy goodness!"
It was creamy, the coffee was tasty, and it was goodness. It is a tad sweet, so if you want it toned down a bit go for the "half" version of the Wintermoon (iced latte) or the Summermoon (hot latte).
With my caffeine need satisfied, it was time for wandering aimlessly through the countryside. We found a place called Buda, a town called Dripping Springs, and made our way to Lakeway, which I kept calling "Lake-Away" for some reason. Why the driving tour? To see the Austin countryside, and a dam, of course.
Okay, it wasn't really to see a dam, but to see the results of a dam, namely Lake Travis.
It was a warm day but overcast, so the impression of Lake Travis didn't have the impact I thought it might, but what did impact me was the amount of hilliness that was prevalent in our drive. Winding roads, hills, and scenic views abounded. I don't know why I found it weird, I suppose mostly because when us northerners think of Texas we imagine flat, oil fields and sprawling cattle ranches, but the area south and west of Austin is anything but flat, it's downright beautifully scenic.
Needing a little grub before our big dinner that night, we found ourselves at Oasis Texas, a complex of shops and restaurants situated on Lake Travis. Much of the complex was shut down for the winter season, but happily Oasis Texas Brewing Company was open. It was happy hour, I had a beer that paid homage to the Chicago White Sox announcer Hawk Harrelson, a barrel-aged wee heavy beer right up my alley called "He Gone!" The chicken slider was very salty, but the wagyu slider hit the spot.
I could see why Oasis Texas is considered "The Sunset Capital of Texas," situated above Lake Travis with what is probably a spectacular sunset view, but there would be no sunset for us as the cloudy skies and our fancy dinner reservations had us back down hilly roads to downtown for some freshening up before dinner.
Why Did Dessert Have to Let Me Down?
It being Valentine's Day, and both my wife and I liking fancy dining, we found ourselves at Olamaie, a house converted to an acclaimed restaurant, and ready for a food experience and biscuits. I say, "and biscuits" as Olamaie is known for their biscuits, so much so that the biscuits have their own spot on the Olamaie web site, with special ordering for just biscuits. These must be some pretty darn special biscuits. Time would tell.
Their Valentine's Day menu was of the prix fix variety, offering various choices of an appetizer starter, main course, and dessert.
We both had the Gulf White Shrimp & Jefferson Red Rice as the starter, with a large helping of shrimp and my first taste of red rice. Things were off to a great start.
With the main course my wife opted for the snapper, while I enjoyed a perfectly prepared beef tenderloin. The sauce wasn't overpowering, you could almost cut the beef with a fork, and snapper was nicely done as well.
Yay for part two!
Many a time my wife and I will skip dessert at a restaurant because, unless a restaurant is known for it's dessert, things will fall apart. For this dinner our dessert was part of the price, so angel food cake was the choice for my wife, and as I am a chocolate lover, the dark chocolate cake made its way to my table setting.
Yes, the Olamaie magic shell on top of the cake was fun, but maybe too magical as you really needed more than a spoon to crack it open. The black cherry ice cream was a complete necessity as the cake was a dry disappointment, and for once a chocolate dessert let me down. Maybe it was the anticipation that it should have been wonderful and wasn't, and even my wife's angel food cake was, as she put it, just okay.
What a bummer because the rest of dinner was up there with the best of them, and yes, the biscuits are that good to warrant their own spot on the web site.
No Food, but What Would An Austin Trip Be Without Music?
Austin is known for its music scene, and when my wife and I planned this trip we wanted to experience some of it. Little did we know that we would see a little band of musicians on a street corner in an unplanned music event, but on the planned side we bought tickets for Bob Schneider at The Moody Theater, home of Austin City Limits Live.
While I do try to stay on top of the music scene, I had never heard of Bob Schneider, nor the Moonlight Orchestra who was with him. That didn't deter us as we did some listening to his music online and said, "Sure, he sounds like a good time. And heck, he's playing the famous Moody Theater on Valentine's Day. How bad can it be?"
It wasn't bad at all even if it was a night of music I really didn't know, short of a few covers like Barry Manilow's, "Mandy" in tribute to the TV show "The Bachelor."
The show was fun, included sing-a-longs, and introduced me to a musician now in rotation on my music playlists.
Decent Coffee. Skip the Taco.
Jo's Coffee on Congress was another recommendation to us by someone who had been to Austin, and looking at their menu showed they also served breakfast tacos. They do a decent marketing ploy as on their menu it states, "We offer house made tacos daily starting at 7AM until they're gone."
"Damn, those must be some in-demand tacos. I hope they don't sell out by the time we get there." Sadly, it wouldn't have been so bad if they did sell out because there was no comparison in Jo's Coffee breakfast taco to the likes of the fantastic Cisco's taco the morning before.
I opted for their "Iced Turbo" latte which kind of reminded me of the Summer Moon coffee in terms of sweetness from the day before. It was tasty, and would have been more tasty with a better taco.
Also a great marketing ploy on their part, they join in the "You have to take a picture at their mural" craze with their "i love you so much." painted on the side of their building. Yup, a picture was in order.
Let's Skip the Driving and Get some BBQ?
Another day of aimless driving took us north to the town of Georgetown where both my wife and I kind of agreed, "What the heck are we doing driving around aimlessly? Let's get some barbecue."
Heading back to downtown the choices were many, but we quickly realized that Terry Black's BBQ was within walking distance from where we were staying, and with a record high temperature on its way to Austin, we should really enjoy the weather and the path by Lady Bird Lake.
A brief walk in the summer-like air found us in a line that took about 30 minutes, impeded mostly by tourists who couldn't seem to make up their minds at the buffet of sides. As both my wife and I really don't like the buffet concept, watching too many people with not so great hygiene scoop gobs of mac and cheese, potato salad, and green beans, we should have bypassed most people in line and headed right for the meat counter. We waited patiently, however, analyzed the menu, and settled on no sides, just meat by the pound with a mix of pork ribs, beef ribs (I always forget how big a beef rib is as most of Illinois barbecue just offers pork ribs), and brisket.
Most people will comment that there really isn't any bad barbecue in Austin, and while we didn't try a lot of it, I will say that Terry Black's BBQ was pretty damn good. Well seasoned, not too spicy, and juicy as you would expect, we were glad we skipped the sides and stuck with just the meat. I remember making the mistake of filling up with salad and sides at a Brazilian style restaurant once, and not having room in my belly for the meat, so I didn't want to make that mistake again. Do yourself a favor, and unless you really must have mac-n-cheese or beans, skip the sides – you are at a barbecue place for barbecue. Enjoy.
Hold the Salt, Pass the Ice Cream
After two days of consuming more salt than our bodies have probably had in years, my wife and I needed something that wouldn't cause our blood pressure to reach new heights. Okay, maybe a bowl of ramen wouldn't really solve that problem, but luckily Ramen Tatsu-Ya on S. Lamar had a line around the building so we wandered around and found ourselves at Mandala Kitchen and Bar, a Vietnamese & Thai restaurant at this nice little restaurant/entertainment complex on S. Lamar.
With the rest of my family hauling their way from Houston to visit us in Austin later that evening, we didn't want to over-eat as there would be more food later, so we opted for their spring rolls with tofu and some chicken pad thai.
Wow, that hit the spot. The spring rolls were fresh and crisp, like you want a spring roll to be, and the tofu wasn't mushy. The pad thai had perfectly prepared noodles, and we both agreed it was some of the best pad thai we have had in a while.
Actually, our initial thought for a little less salt began with a desire for ice cream, and as luck would have it, right around the corner from Mandala was an ice cream shop called "Lick Honest Ice Creams."
While yes, they do have some fairly normal ice cream flavors, Lick is really about mixing up tastes to create unique ice cream. I mean, when was the last time you opted for a scoop of Lemon Poppy Seed or Roasted Beets and Fresh Mint ice cream? I stayed relatively safe in my choices with a scoop of Dark Chocolate, Olive Oil & Sea Salt, paired with Hill Country Honey with Vanilla Bean, and after the last taste, was happy with my choice, as well as happy that I didn't need a gallon of water to balance out the salt.
Let's Skip Dinner and Get Right to Breakfast
With my family's late arrival, we opted to just hang out at the hotel, grab some grub and a few drinks, and catch up after not having seen each other for three years. The food was, well, hotel food, so let's move right on to breakfast the next day.
As I mentioned earlier, a second breakfast recommendation was Joe's Bakery, and I must say that Joe's did not disappoint. We appeared to have timed it perfectly as Joe's was able to accommodate our party of eight, and everyone proceeded to dive in. Migas plates, breakfast tacos, and Chicharrone filled the area, and when it was noticed that a lot of patrons were buying this cake with pink icing, we asked our server,
"What is that cake with the pink icing everyone is buying?" She nicely replied, "Pink cake."
Sold!
My family was impressed I knew of a good breakfast spot (Thanks, Noah!), so I was the star of the day, and if you want a solid piece of cake with pink icing, may I recommend the pink cake!
Ping Pong and Beer
The bummer part of the morning and afternoon with my family was not that I had to spend the morning and afternoon with my family, but rather the fact that as opposed to the day before, with a high of 91 degrees, the weather folks seemed to have no clue as to how to forecast the weather as three days earlier they said Saturday would be in the mid-70's, but suddenly it was a day mostly in the 50's, with a decent breeze, and no sun. So much for all the outdoor fun we were planning.
Alas, to entertain ourselves until our fancy dinner that evening, it was decided that for a little bit we would try to hit each other with ping pong balls at Spin Austin to work off our breakfast, and then, since Jester King Brewery is really a better place for the outdoors, or so I'm told, we found ourselves at Austin Beerworks for some cold ones and an eight person game of Yahtzee.
The beer was tasty as I went for the beer flight with a holder that looks like a giant set of brass knuckles, and of course I stuck with the higher ABV stuff, with the likes of Gold Fist which is a Belgian strong golden ale, the Fire Eagle, because who doesn't like a solid IPA, and Moon Shovel, a double IPA, wasn't too shabby, either. Happily I wasn't driving!
It was kind of a bummer about the weather, but hey, I kicked everyone's ass in Yahtzee as I got Yahtzee not once, but twice. Yay, me!
A Food Quantity With a Good Vibe
When it was decided we were going to Austin, and it was further decided that my family was coming up from Houston, there was a lot of discussion about a restaurant that was up to the fancy standards of my wife and I, yet with a menu that would satisfy family members who aren't so adventurous when it comes to their dining choices.
We decided on Launderette.
Nicole was our server, and she was very concerned with our vibe, while all of us were concerned with how much to order. Encouraging sharing, and not sure how large the portions were, Nicole suggested we decide on our Snacky Bit and Toasts before we decided on our Wood Grill, Vegetables, and Specialties choices.
The nice thing about having eight people and a lazy-susan in the middle of our round table meant that we could share a lot of the menu choices rather than settling on one thing. After deciding on Snacky Bits of the Fried Shrimp and Burrata, with Toasts of Crab & Avocado and Pastrami Salmon, Nicole guided our group through the perfect amounts of Pork Ribs, Hanger Steak, and a Whole Branzino off of the Wood Grill option, paired with Grilled Broccoli, Sticky Brussells Sprouts and Frites, a.k.a. french fries to most of us.
You would think that might be enough, but adding the Chicken Thighs and Bucatini, which is a fantastic duck and pork ragu with pecorino and pasta, turned out to be the perfect amount of food vibe.
Nicole seemed pleased with our choices.
The food proved just different enough to keep my family hesitant yet intrigued, and I was happy to introduce branzino to the group, which everyone thought was fantastic.
Unlike Olamaie where dessert fell flat, Launderette did not disappoint anyone in the group. The Chocolate Dirt Cake, an Apple Streusel Tart, Hibiscus Poached Pears, and some ice creams were enjoyed by all.
Yes, I did well in the eyes of my family with my food choices on this Saturday.
Secrets Belong on the Menu
The Austin Marathon was taking place the morning of our departure, so trying to get the family to Cisco's for breakfast seemed like a challenge none of us were up for. Instead, another recommendation we received was to get tacos from Torchy's.
More like a chain restaurant, I discovered something in my research on Torchy's and that was that they have secret menu. Go ahead, Google "Torchy's Secret Menu" and you will find a range of options not on their menu with secret code phrases like "Jack of Clubs," "Mad Cow," and "The Matador."
As I ordered the "Jack of Clubs" (Fried egg, potatoes, black beans, crisp corn tortilla strips, shredded cheese, cilantro, sour cream and Diablo served on a flour tortilla) the guy behind the counter gave me the look of "Yea, you know your Torchy's."
The taco was tasty enough, but man, it was no Cisco's.
Donuts Only a Couple of Blocks Away?
While I had enjoyed a myriad of great recommendations from Noah Kagan and others about food choices, there was still one thing missing on my trip, a good donut. Yes, he mentioned Voodoo Donuts, but I wanted something more Austin. Who else might help? A man named Google Maps!
Knowing we would be at Torchy's on South Congress, I asked Mr. Maps if there were any donut spots nearby. Sure enough, only a couple of blocks away, was a refurbished airstream travel trailer housing the likes of Gourdough's Big. Fat. Donuts.
They were big. They were fat. And they were donuts with flavors like Mother Clucker (Fried chicken strip with honey butter), Fat Elvis (Grilled bananas & bacon with peanut butter icing and honey), Baby Rattler (Fudge icing & fudge oreos with a gummy rattlesnake), and my donut of choice, the Flying Pig with bacon and maple syrup icing.
Did I mention these were big, fat donuts? Holy crap! While I could have probably tried to eat my Flying Pig with my hands, I opted for the more dignified method of knife and fork. The maple syrup icing wasn't too sweet, the bacon was, well, bacon, and the donut, even though gigantic and made in the trailer, wasn't overcooked nor too doughy.
Mama's Cake (Yellow cake batter filling with chocolate fudge icing) was enjoyed by my nephew, and for something a little more simple, go for the Naughty & Nice, a donut take on the classic cinnamon toast enjoyed by my wife.
A Belly Full of Goodness
And so, Austin, you treated us well, and served us some wonderful food choices. I must say that the recommendations from a variety of folks aided nicely in our research of places to try, and while there were some items that didn't live up to our hopes, there really wasn't anything we tried that seemed like a complete waste of our caloric allotment. Okay, there wasn't a caloric allotment on this trip, but happily there was enough walking to offset some of the, well, not-so-healthy food choices.
Go to Austin. Hear music. Eat food. You will not be disappointed. Yes, Austin is full of good things.