A Disclaimer
This article is just my story. I am not offering any medical advice nor trying to tell you what to do if you suffer from an autoimmune disorder. I'm only explaining my journey of being afflicted with what is called Delayed Pressure Urticaria (DPU), the protocols I used to help alleviate the welts, swelling, hives, or "wheals" as the doctors call them, and my recent results following a fasting mimicking diet.
Welts Don't Look Good on a Beach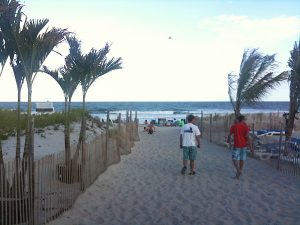 I don't remember the first time I noticed it, but it was at least over 20 years ago. The instance that always stays ingrained in my head was a trip to New Jersey. I had a shoulder bag that was rather heavy for lugging through an airport. The flight landed, all was well, but about six hours there it was, a giant welt in the spot the shoulder bag strap rested on my shoulder. This was not the look to go with when you are heading to the beach.
At the time I didn't know what was going on and, in typical "guy" fashion, I completely ignored the signs. It also didn't make sense. Why would I get swelling six hours after doing something physical?
As the years went on things seemed to get worse. I would notice, after doing manual labor, things like using a drill, screwdriver, or saw, always, after about six hours, things would swell. My hands would look like balloons, and to compound the discomfort I would develop a low-grade fever. One particular bad turn was walking on a beach in my bare feet. The day in the sun was great, and it didn't occur to me the pressure that was on my feet while walking on the sand. Sure enough, six hours later, my feet swelled so much that my shoes wouldn't fit, the pain to walk was nearly unbearable, and the fever chills hit me like never before.
Thankfully, by then, the internet information was becoming more widespread. After a boatload of searching, probably for something like "swelling and fever six hours after pressure," there it was: Delayed Pressure Urticaria.
Why Don't Men Like to See a Doctor?
As things stayed consistent, and I learned to plan for the flare-ups, sure, I could have checked with my doctor, but why would I want to do that? Secondarily, almost to a person commenting on the internet except a lowly few, their doctors, because of the wheals, went right to "allergy" and would prescribe every allergy medicine under the sun. Only a few realized it wasn't really an allergy but what one might classify as an autoimmune disorder.
Finally, I brought it up to my doctor, and even after my mentioning my research into it being an autoimmune disorder, she completely dismissed me, and said I should try Claritin for three months.
She's a doctor, and what did I know? I did try her advice, I mean, what the hell, but alas, no changes in any symptoms. There would be a change in my doctor. It was too bad because I really liked that doctor up until then.
I'll Try Just About Anything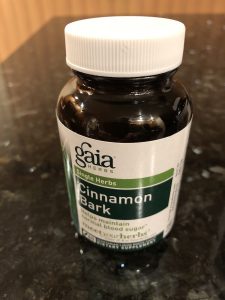 As the years went on, every now and then, I would do internet searches to see if anything new was out there in the world of Delayed Pressure Urticaria. The general consensus, on what I considered the extreme front, mentioned that steroid shots or pills seemed to help, but a myriad of people were taking a more holistic approach. Someone mentioned cinnamon pills helped alleviate the symptoms. In my head I questioned, "They make cinnamon pills?" Sure enough, they there were on the shelf at the store.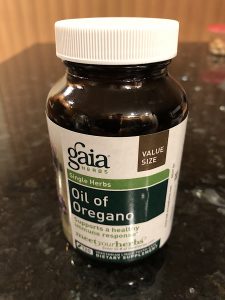 Low and behold, with the cinnamon pills things were a little less on the reaction front. I guess cinnamon is supposedly a natural remedy for inflammation. Still not satisfied, I kept looking for answers, and a few months later someone mentioned oregano pills. Again, "They make oregano pills?" Sure enough, there they were on the shelf in the store.
The holistic folks tout oregano for its anti-inflammatory benefits as well as pain relief, and yes, the addition of the oregano pills helped alleviate the debilitating effects of the welts and swelling even more.
What the Heck is a Gut Microbiome?
Still not the greatest of solutions, my DPU had become a little more manageable, and instead of a two day recovery period if I was overly aggressive in my working with tools and solid objects, things were down to about a 24-36 hour period. A few years go by and now tons of stories are starting to creep onto the internet about autoimmune disorders and the gut microbiome. Turns out there is a boatload of bacteria in the gut all trying to keep you healthy, but for many people their microbiome in the gut is completely out of whack.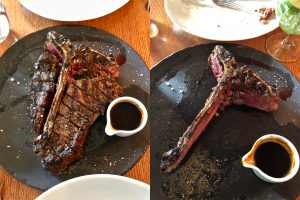 A lot of this out-of-whackness appears to be linked to diet, overuse of antibiotics, and even not being born vaginally, but, for me, I'm blaming popping antacids like candy back in college, mostly completely unnecessarily, but it was the "thing" to do as we were "stressed." As I look back my DPU ills started shortly after my college career ended. The damage was done, I was doing nothing in my diet to help it recover, and low and behold my autoimmune system decided that pressure on my skin was a bad thing. Weird.
Safely on the cinnamon and the oregano, I had also found a new doctor and a dermatologist, both of whom knew of the condition, and both said there wasn't any known "pill" that would solve the problem. My dermatologist said she would keep her eyes open for anything on the horizon, but mostly both were both curious when I would tell them the steps I take to alleviate the issue.
With no great ideas from my doctors, now what was I to do? I know, I'll take a probiotic! Let's try to get the gut microbiome back in whack!
I will admit that my diet didn't change that much, but with the addition of the probiotic the severity of my DPU lessened even more. The recovery period was down to about 12 to 14 hours, and the swelling wasn't such that I worried about taking off my wedding ring or watch, and if I took a couple of aspirin about 4 hours after I finished whatever manual labor I was doing, I could eliminate the fever and chills and function rather normally, albeit with some swelling and discomfort.
I pretty much accepted that things would be like this the rest of my life.
Podcasts Lead to a Possible DPU Breakthrough for Me?
I listen to a lot of podcasts, mostly in the car on the way to work, and that's what eventually took me to something called a fasting mimicking diet from Dr. Valter Longo and Prolon. I believe the journey began in 2014 or 2015, hearing a different doctor, Dr. Rhonda Patrick, on TimTim TalkTalk, or rather The Tim Ferriss Show as it is commonly known. During the interview there was a lot of talk about longevity and diet, and my general interest was peaked. I didn't do much follow-up, mostly just subscribing to her podcast, and as a follower of Tim's I also found myself subscribed to The Kevin Rose Show as I enjoyed him on Tim's "Random Show" episodes.
A couple of years of podcasts went by and there were a lot of episodes about the gut microbiome, but things also transitioned to more discussions of fasting. Mind you I tried a juice-only fast a few years earlier and made it to day two before, "I need something to chew!" blew that out of the water, but come mid-2017, Tim Ferriss had Dr. Patrick doing a Q&A episode for his show and some of the answers were about Dr. Longo and his research into fasting.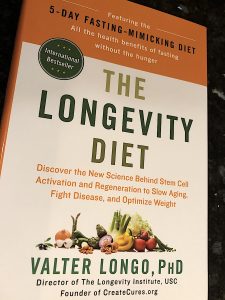 Then 2018 came, and my interest in the fasting mimicking diet really started to solidify. Kevin Rose interviewed Dr. Longo on his podcast. The good doctor was promoting his book, "The Longevity Diet," which was nice and swell, but when the talk turned from longevity to research into fasting and its effect on cancer treatment, and more important to me, autoimmune disorders, specifically Multiple Sclerosis (my dad had M.S.), I listened more intently. I ordered the book and in true "me" fashion, I didn't read it.
Thankfully came a follow-up interview of Dr. Longo by Dr. Patrick on her "Found My Fitness" podcast, and with an episode title of "Dr. Valter Longo on Resetting Autoimmunity and Rejuvenating Systems with Prolonged Fasting & the FMD" it was time to take this seriously. I read the book, I studied the research, I found blog posts of people who had done the fasting mimicking diet, and I decided to try it. In my head I had no expectations of any profound effects on my DPU, especially after one cycle of the diet, but I figured in a worst case I would lose some weight.
Let's Give the fasting mimicking diet a Shot
I had two choices to try the fasting mimicking diet. One choice was to follow the guide in "The Longevity Diet" and making my own meals. The other was to just purchase the food package from Prolon, a company that developed an all-in-one kit for diet. I knew the value of purchasing the meal plan would be in "here's what to eat today," limiting any temptation to cheat. My wife also decided to join me and give it a try. We ordered our food.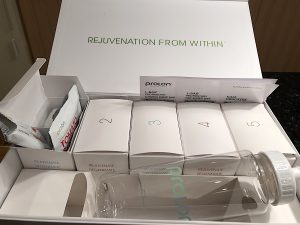 The packages arrived and inside were five, small boxes labeled for days one through five, a giant water bottle, instructions, and other information. The diet, each day, varies ever so slightly, and looking at our calendar, my wife and I decided to begin on a Sunday and end on a Thursday. We set it this way so Friday could be the transition day working back to fuller meals on Saturday.
The days are set up with a breakfast, lunch, and dinner, and some side items you can use as an afternoon snack or eat with your meals. You also get some herbal tea, and for days two thru five there is an energy drink . You are instructed that you can mix up the meals during the day, but you should eat all of the food in the box on that day and not swap days, i.e, don't eat the Day Two Meals on Day Three and Day Three on Day Two, for example.
As far as the food, each day you are given two soups. One soup is microwavable, the other you actually have to cook on a stove. The quinoa soup was rather tasty, the tomato and minestrone not too bad, but I could do with a different vegetable soup. Happily there was only one day with the vegetable soup! You also get meal bars where some days you are allowed two, and some days only one. You will probably really miss the Chocolate Crisp L-Bar so savor it on the days you get it if you try the Prolon route. Some days have some supplements, other days none, some days crackers and some days none, and some days olives and some days none.
Yup, I admit, it seems kind of wacky.
Wackiness aside, you might wonder, "Do you feel like you are starving?"
I have to say that there was only one day when I really felt hungry. Maybe it was the fact there was actually food to chew, or I had a greater curiosity with the end result, but getting through the five days wasn't really that tough. The toughest day was actually day six, the "transition back to normal food" day, as there are lots of horror stories of blow-outs, if you get my drift, hiccups, or all around discomfort if you decide to just chow down coming off of a fast. You are instructed to ease back into food. For us we opted for lighter meals during the transition day, with a dinner of fish.
The Gloves Come Off
With the fasting mimicking diet behind me, as well as a few pounds, I was curious if there was actually a change in my DPU. Oh yea, I forgot to mention that during the diet I stopped taking the probiotic, oregano, and cinnamon supplements, only starting the probiotic again after the diet was over.
Back to results…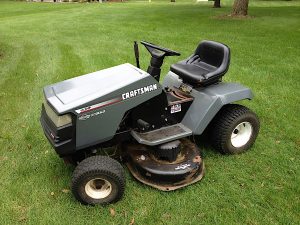 There was only one way to find if there was any effect of the diet on my DPU, but I didn't want to go completely crazy by remodeling our basement. I started slow, just with mowing the lawn without gloves. That might sound silly, but for our lawn we have a riding lawnmower, and I found out, early on, that if I didn't use gloves my hands would swell. It wouldn't be horrible, but there was always swelling, so for the years we have lived in our home, whenever I mowed the lawn, gloves were on.
This time the gloves were off.
The lawn was mowed, and I waited for the swelling.
The Swelling Never Came.
I was shocked. Not even a bit of swelling occurred which I usually gauge by the ease with which I can take off my wedding ring. "This has got to be an anomaly, right. Maybe I was being as gentle as I could with my hands while mowing the lawn."
I realized that while I had no swelling on this completely, unscientific test, I would need to do something more aggressive, something I couldn't "fudge" by being gentle, and see the results.
Thankfully the following weekend presented the next opportunity. Yes, the lawn needed to be mowed again, but what the hell, let's do a boatload of weed-wacking and edging around the house. I mowed the lawn, and when I was done with the lawn I grabbed the weed-wacker and proceeded to wack the weeds all around the house. Yay! Then I went even crazier and decided to edge around the sidewalk and driveway. Finally, about four hours later, my work was done, and it was all accomplished with no gloves.
It was now time to expect the worst. A little over a month earlier I had done some yard work, and even while wearing gloves there was swelling. This time the work was much more intense, much more stressful on my hands, and I did it without gloves. I showered and expected that, about five hours later, I would begin to get the chills with the low-grade fever, I would have to make sure I took off my wedding ring so the swelling wouldn't grow around it, and my watch would have to come off as I wouldn't be able to slip it over my balloon-looking hands.
The end of the afternoon came, and nothing was happening. The evening came and my hands were still normal and there was no sign of fever. I went to bed, and it was like I didn't do any yard work at all.
"Holy crap, did this fasting mimicking diet cure my Delayed Pressure Urticaria?"
I still didn't believe it.
The Testing Continues
The next weekend came, and I said to myself, "Self, the weather is crazy hot outside. Let's tackle a boatload of inside, house projects!"
So I did.
There was an extra-vigorous bathroom cleaning (Not that I normally do a crappy bathroom cleaning, but this time there was some floor scrubbing on my hands and knees, and an extra-deep cleaning of the whirlpool tub), vacuuming, and the topper was some drywall repair. Again, any one of these had the ability to cause swelling of my hands, and this time also of my feet as there was a lot of bare feet walking around the house action going on, but put all three together and about five hours after I was done I should be decimated.
Nothing happened. Five hours, six hours, seven hours, eight hours later and there was no swelling of my hands nor feet, and no fever. I felt fine, albeit a little sore in some muscles from using them more than normal, but there were no DPU affects.
As I write this I am still shocked.
A Case Study of One Continues
I will say that I have no scientific confirmation it was the fasting mimicking diet that eliminated my DPU syndrome. Maybe I went into remission at the same time, maybe the years of probiotics finally cleaned up my guy at the same time I started the diet, or maybe there was a different diet change that affected me. I don't know. What I do know is that prior to starting the FMD I had all of the classic symptoms of Delayed Pressure Urticaria, and after completing the FMD, in three "tests," there was nothing. Not a swollen hand, not a welt, not a slight fever, no symptoms whatsoever.
Now what? Well, my intention is to complete another round of the FMD in the hopes of compounding the seeming healthy effects of the diet, and maybe follow that by remodeling the basement. Okay, maybe not remodel the basement, but at least continue testing my physical limits, doing the things that used to cause the discomfort. There will also be adjusting of my diet to be a little more healthy while keeping my gut microbiome intact.
My journey will continue, hopefully, with a wonderful healthspan without delayed pressure urticaria. Only time will tell.
Keep Searching
For those of you reading this who suffer from delayed pressure urticaria, wondering what might help, fasting mimicking diet testing aside, I will say that my protocol of daily supplements including oregano, cinnamon, and a probiotic, along with, on exertion days, taking aspirin about 4 hours of after I was done "beating up my body" helped immensely. The DPU was, for all intents and purposes, manageable, and recovery down to hours from days. The FMD, though, has given me hope that maybe, just maybe, my body has given me a reset to normalcy.
As a person who has suffered with Delayed Pressure Urticaria for nearly the majority of my life, I welcome every glimmer of hope in reducing the difficulties of the syndrome. Most of the things i have tried helped a little bit, and maybe it was the FMD, maybe it wasn't, but only time will tell if there was something in my life that, at least temporarily, freed me from the debilitating effects of DPU. If you are a person with DPU reading this, and you have other health issues, you really need to check with your physician to see if you are healthy enough to try a fasting mimicking diet. Other than having Delayed Pressure Urticaria, I was a fairly healthy person, with decent blood tests, and not horribly over or under weight. With that I wasn't that concerned about exacerbating any other conditions by doing the five day "fasting." I would also say that if your doctor completely dismisses the thought of the diet as a joke, you may want to find a new doctor.
My last advice is this: If you suffer from a disorder that seems completely wacky and random keep searching for answers, and be open to wacky and random, within reason, all the while doing your own research because your doctor may not.
One search led me to cinnamon pills, another led me to realizing I needed a different doctor, while a different search had me realize you can take oregano as a supplement. Searching helped me find stories of the gut microbiome and its connection to autoimmune issues, and then searching helped me find Dr. Valter Longo and his fasting mimicking diet. For a month now, as I write this, I have been Delayed Pressure Urticaria free, and even if it stays away, or it someday comes back, I will always wonder about it, and maybe do another search.